Mrs. Cornell's 4th grade had 133 post cards sent to their class from their families and friends from all over the country and Mexico! Even Mrs. Cornell's 4th grade teacher, Jean Tremolet, sent a card!!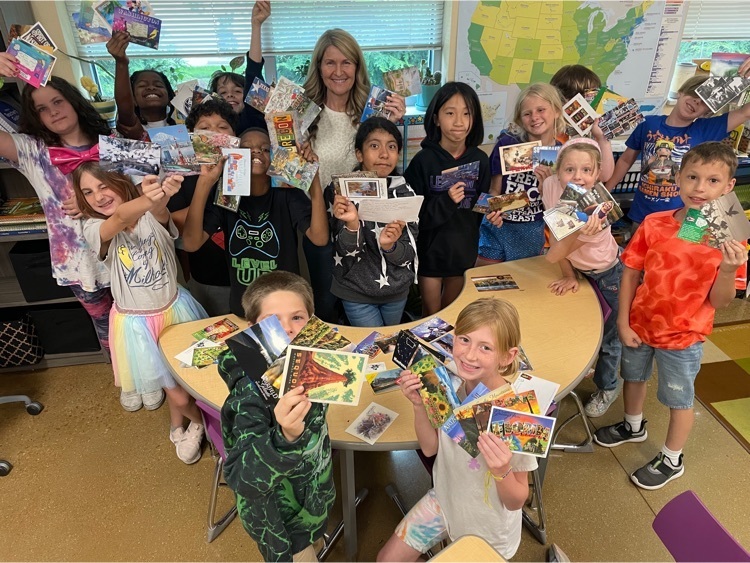 Thank you to everyone who nominated a staff member for the Lebanon Education Foundation's Employee of the Year. The three winners were selected from over 40 nominations. Help us congratulate one of the winners: Mrs. Becky Barnouski. Becky has been educating students for 37 years. She has spent her last 30 years teaching Pre-K, Kindergarten and 1st grade for Lebanon District #9. Becky earned her Bachelor's degree from SIU-C and began her teaching career with SIU-C Head Start. After receiving her Master's degree from SIU-E, she entered the public school system where she taught at Madison #12 and Smithton #130 before finding her home at LCUSD9. During her years at LCUSD9, Becky has been instrumental in managing the Pre-K grant, implementing best practices in the classroom, and mentoring. Becky has also served as union treasurer and has helped in the concession stand when needed. Becky describes Lebanon District #9 as her second family, one that she feels very lucky to have, which makes it very hard to say "good-bye" as she retired at the end of this school year. She plans to spend time with her husband, Anthony, taking time to travel more and they are both looking forward to a new grandbaby arriving in August!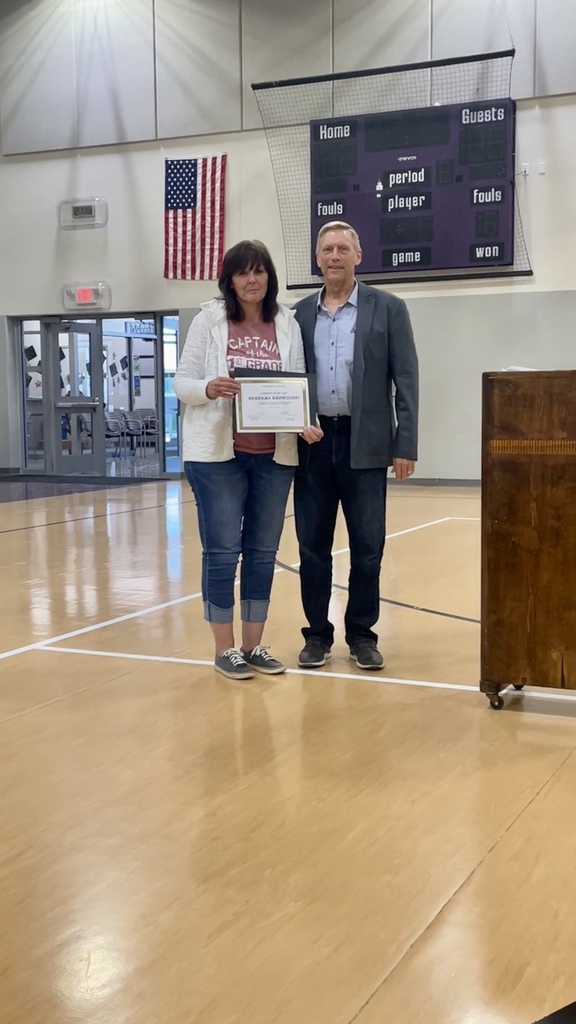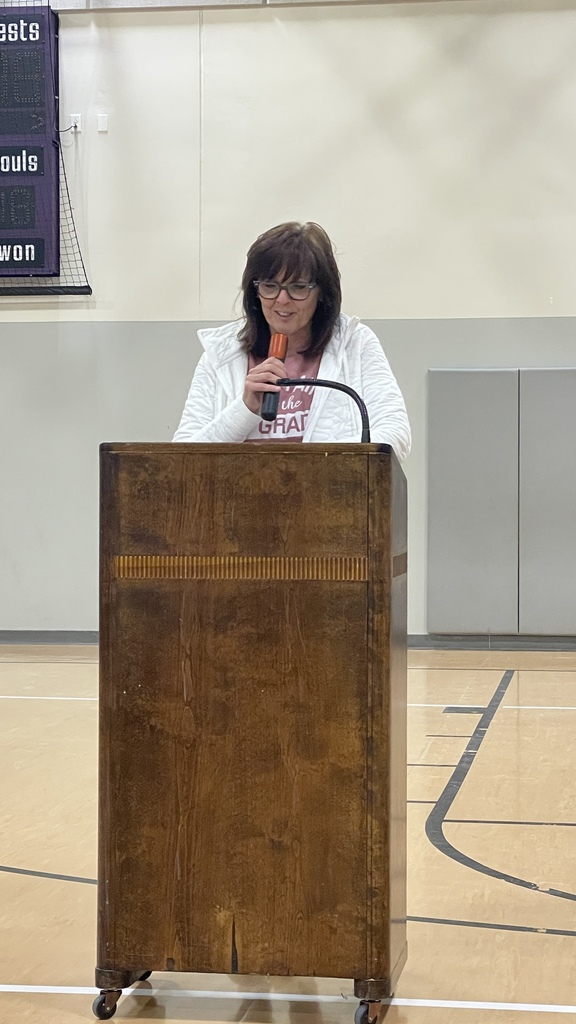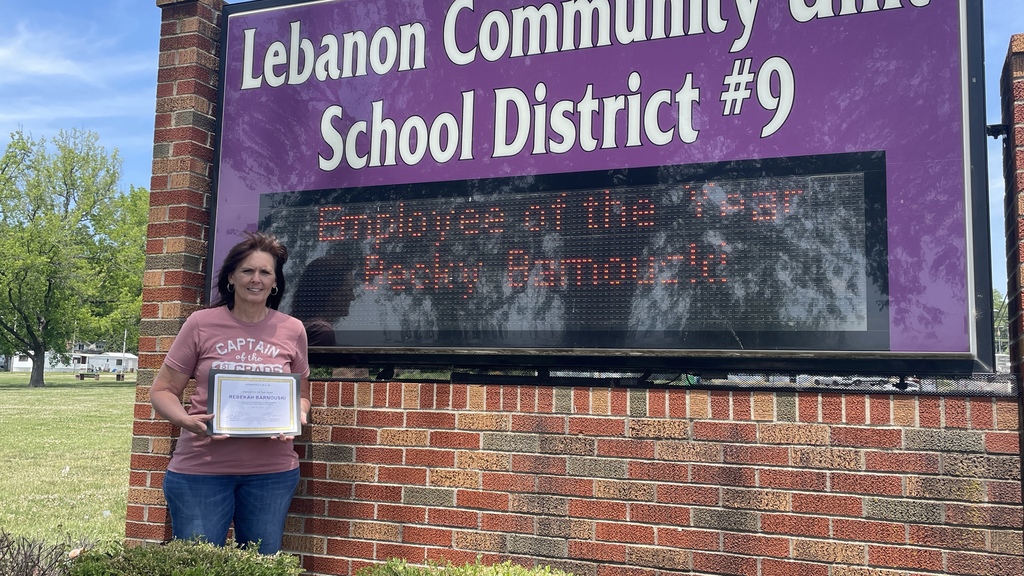 Thank you to everyone who nominated a staff member for the Lebanon Education Foundation's Employee of the Year. The three winners were selected from over 40 nominations. Help us congratulate one of the winners: Mr. Michael Nelson. Michael Nelson just finished his first year at Lebanon High School. Michael started his teaching career in Arcola, IL and then taught and coached at Beecher City Jr./Sr. High School for six years. Michael left the classroom to serve as the youth pastor at First Baptist Church in Effingham, IL for three years before returning to the classroom for the 2021-2022 school year at Signal Hill School in Belleville, IL. He had the opportunity to come to Lebanon High School at the start of this year and did not hesitate to make the move to the district where his wife teaches kindergarten, his kids go to school, and in the town that he lives and has grown to love over the past two years of living here. This year Michael served as the assistant junior high baseball coach and split the year between assistant and head baseball coach for the high school team. In the science department, Michael worked with administration and the other department members to rework the science curriculum to ensure state standards are being met for every student. This year he also agreed to help some students bring back the FCA club at the high school. Outside of school, Michael loves spending time with his wife, Alyssa (the best teacher in the family), and soon-to-be four children, attending Greyhounds sporting/extracurricular events, helping pastor and serving at Rooted Community Church, and spending time with friends.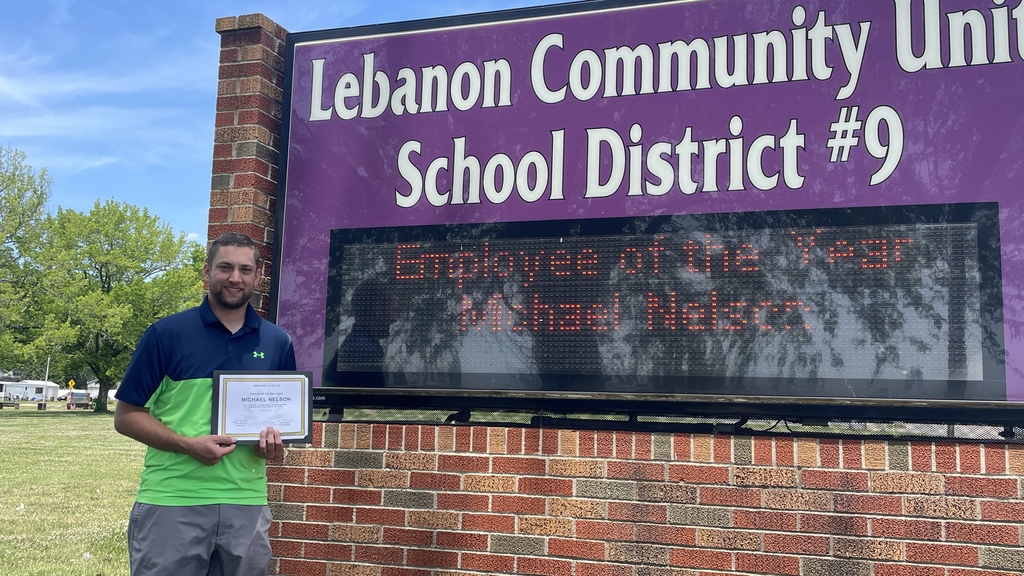 We celebrated our LES students at the Awards Assembly this morning.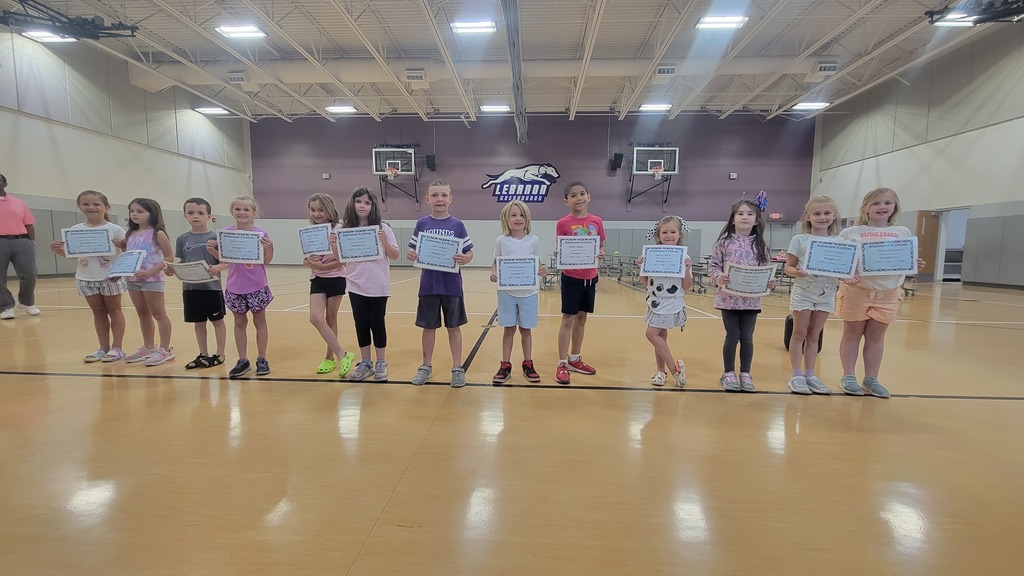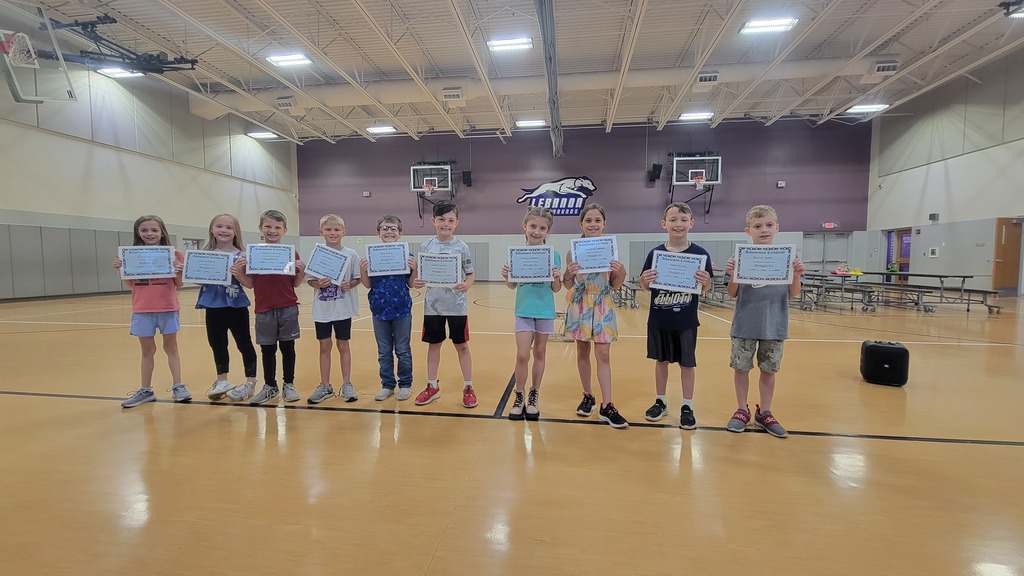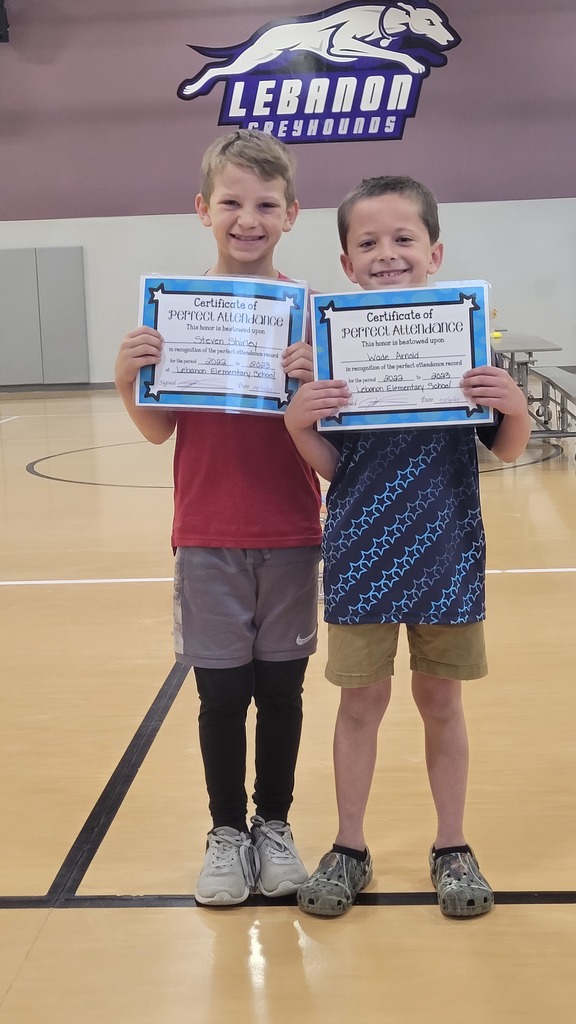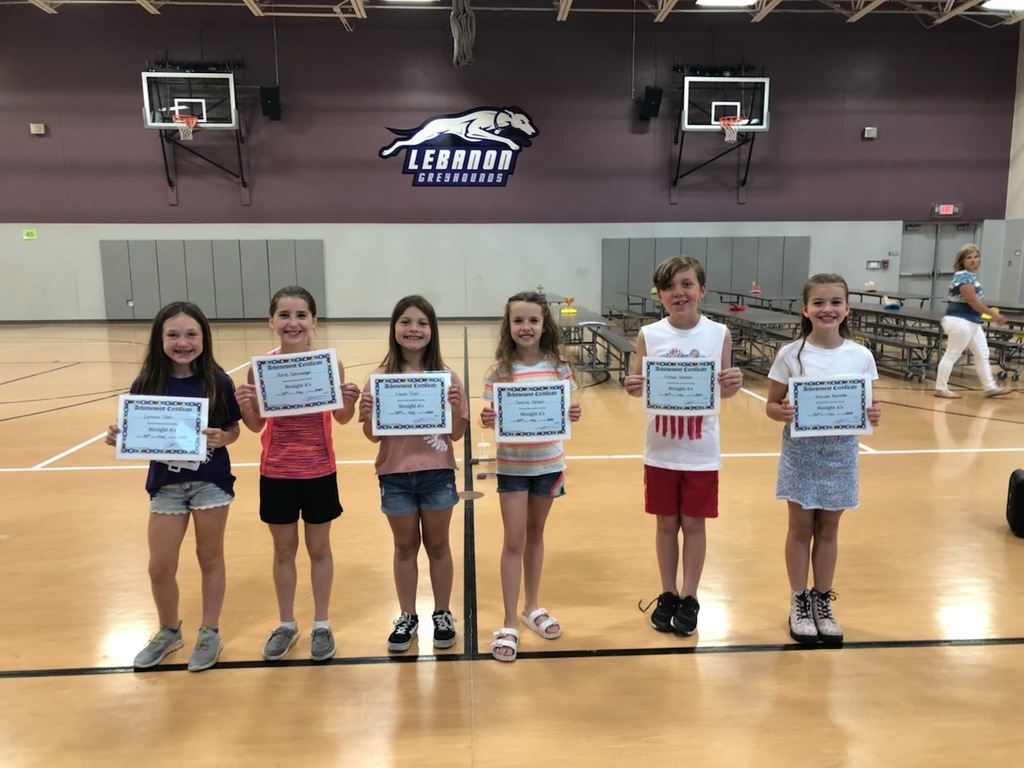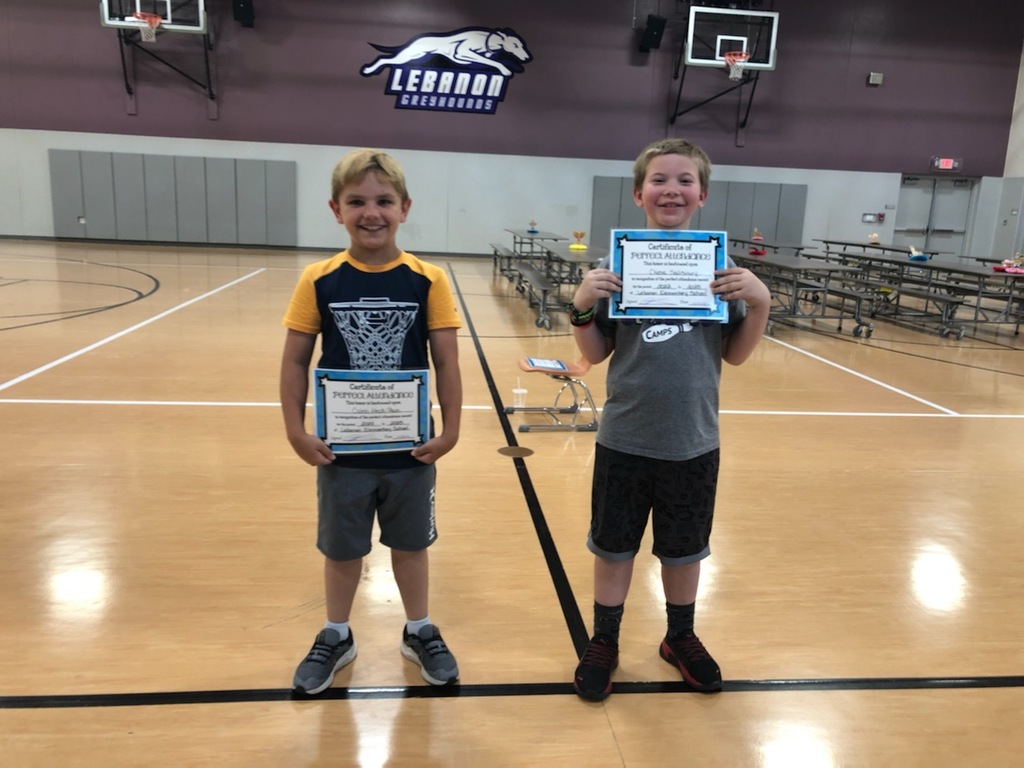 Correction on the Summer Sports Reminder that went out, specifically on the Volleyball Camp information that was sent out, all inquiries should go to
dbecker@lcusd9.org
Free Summer Lunch Program! Grab and Go sack lunches Mon-Friday from 11:30-12 for school age students in Lebanon and Summerfield. Check the flyer for pick up information.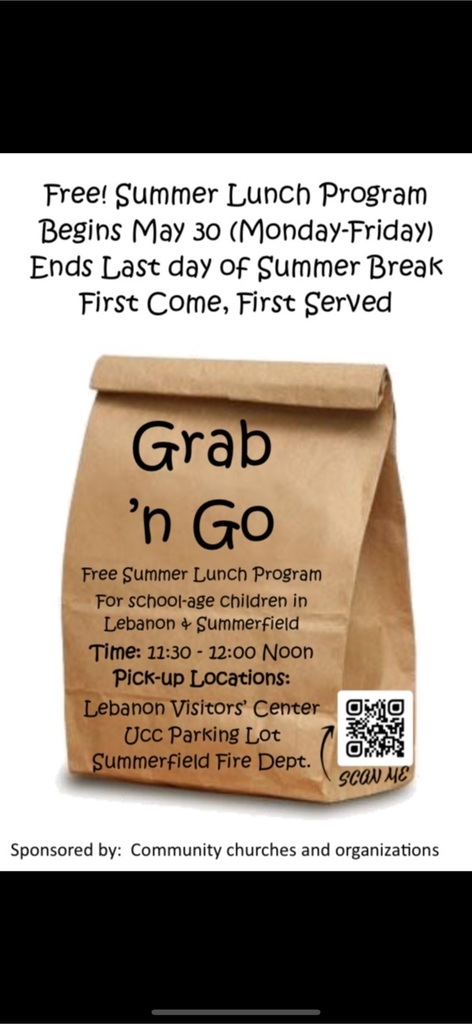 Reminders for summer athletic dates Basketball Camp June 5th-June 9th 9:00 AM-12:00 PM Grades 1st-8th grade boys and girls in the high school gym, $60 and must contact coach Seely by Thursday June 1 by email
jseely@lcusd9.org
HS Volleyball Open Gym grades in coming freshman to seniors 5-6:30 in HS Gym June 12,14,15, 19, 21, then in the grade school gym June 22,26,28,29 HS Soccer will have their first open field for 9th-12 grade 5:00-6:30 on the HS field on June 13th, other dates will be announced soon JH Softball will have open field for incoming 5th grade to 8th graders on Wednesdays starting June 7th from 9:00 AM-10:30 AM, all dates are June 7,14,21,28 and July 5,12,19 Soccer camp will be June 26,27,28 and it will be Kindergarten-2nd Grade 5:30-6:30 on the HS field and 3rd-5th grade from 5:30-7:00 on the HS field, $50 per athlete, parents will pay on the 1st day of camp with check or cash only, a sign up google form will be sent out soon Volleyball camp will be Sat June 24th, Sat July 1st and Sat July 8th, Kindergarten-1st grade 9am-10am( cost $50), 2nd-4th grade 10:15-11:15( cost $50) and 5th-8th grade 12:30-2:30 (cost $75), a sign up google for will be sent out soon, parents will pay on Sat June 24th at camp with check or cash only All athletes must have all athletic paperwork done on the power school portal(same way as last year), $40 JH sports fee paid or $60 HS sports fee paid and a current athletic physical on file at the school to participate in fall sport practices Parent/Player/Coach meeting for hs soccer, volleyball and cross country as well as JH baseball. softball and cross country will be July 18th at 7:00pm JH Baseball will start 1st practice on July 19th from 8am-11am JH Softball will start practice July 31st 9:00 AM-11:00 AM HS Soccer/Volleyball/Cross Country and JH Cross Country will start on Aug 7th, times TBA

Reminder that we will have our high school and junior high spring sport recognition tonight at 6:30 in the hs gym. Doors will open at 6:00



Here is information about about school and sports physicals.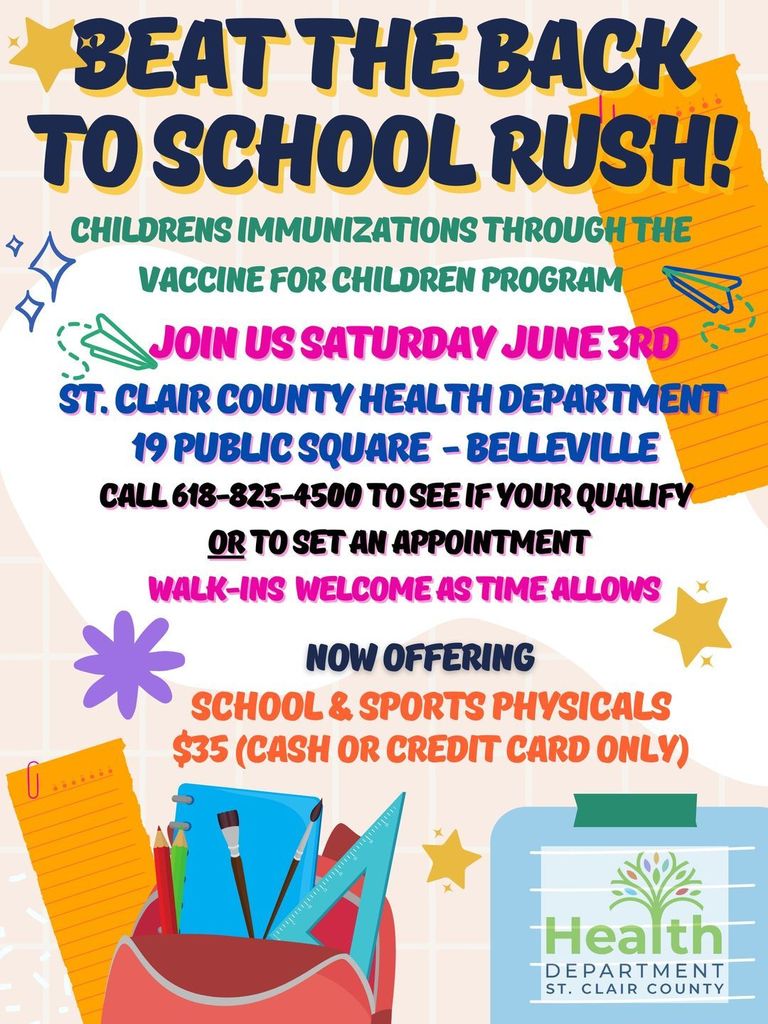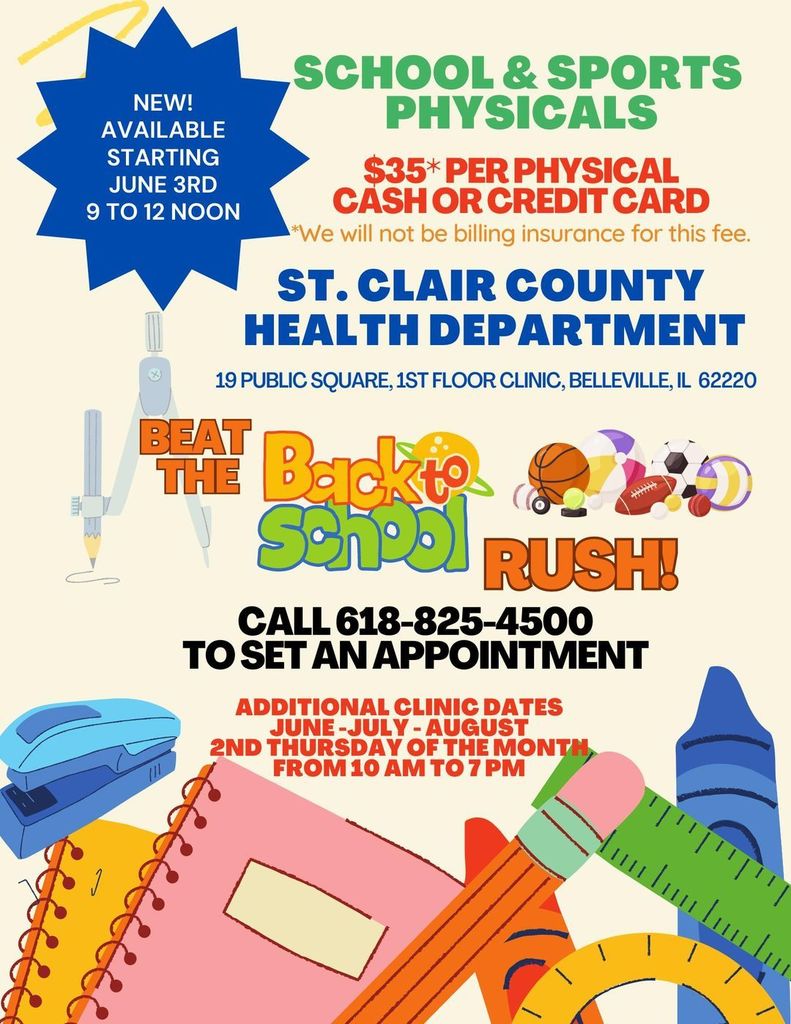 Mrs. Cornell and Mr. Stark's 4th grade at Cahokia Mounds and Dairy Haven.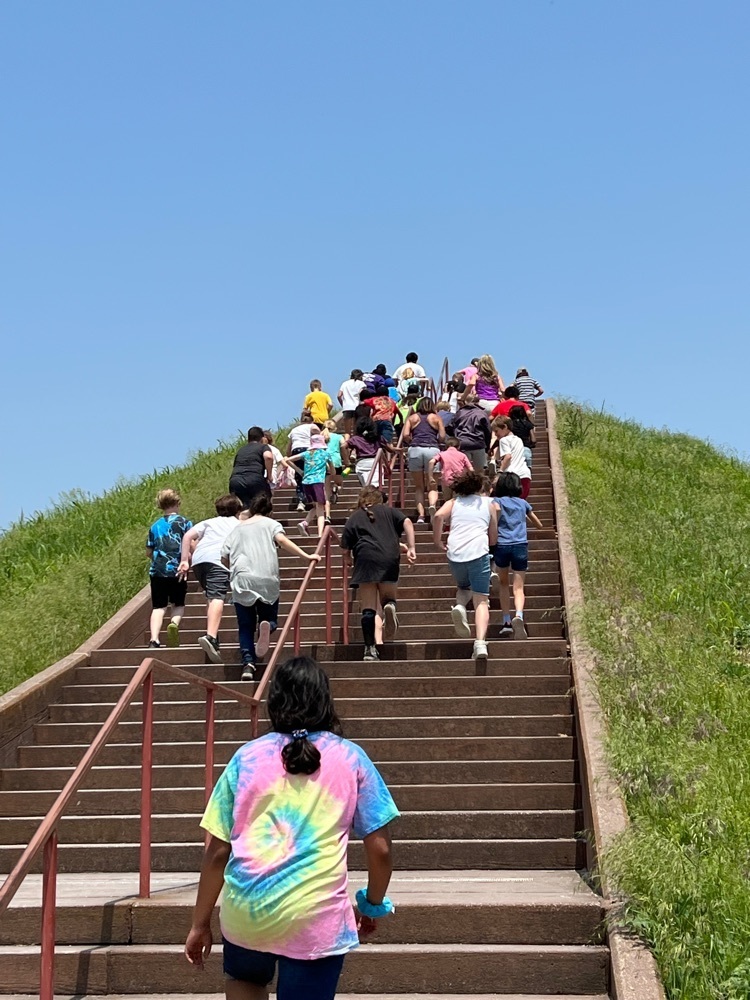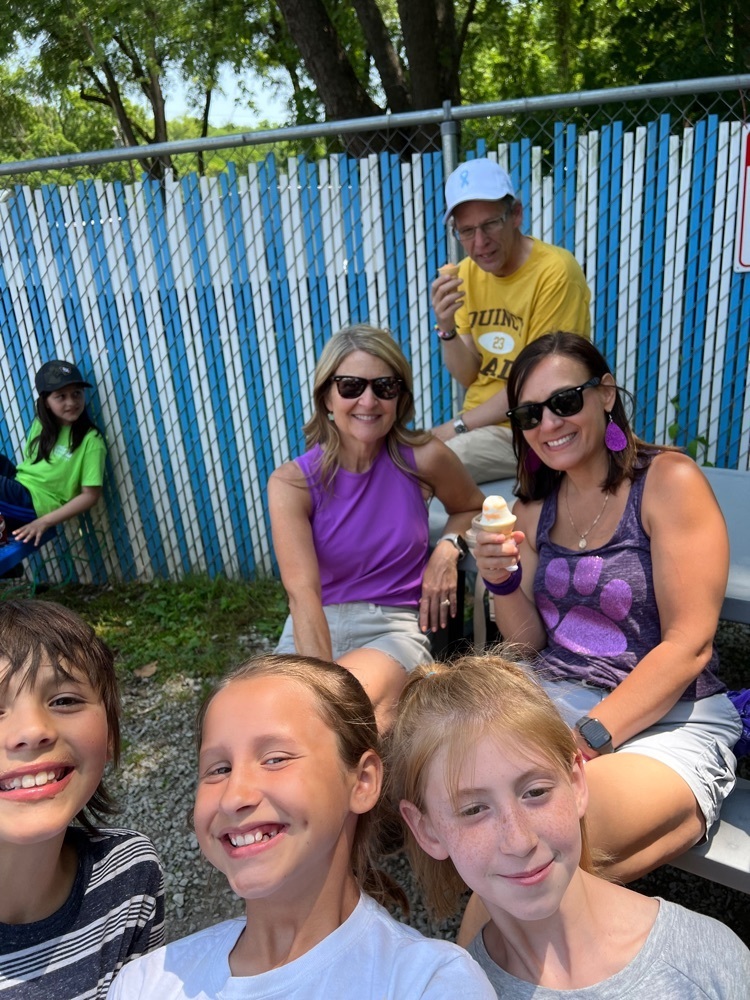 Congratulations to our baseball and softball athletes who were voted onto the Cahokia Conference (Kaskaskia Division) all-conference teams this past week. Baseball Senior Freddy Kittstein Softball Junior Brooke Goetter Junior Kendal Strozier Sophomore Chloe Nordmann Congratulations! Go Greyhounds!



Mrs. Clemens' third graders shared the books they wrote with Mrs. Julie Parker (retired SGS fourth grade teacher). It was a project Mrs. Parker used to do with her fourth grade students. Thanks for visiting with us today!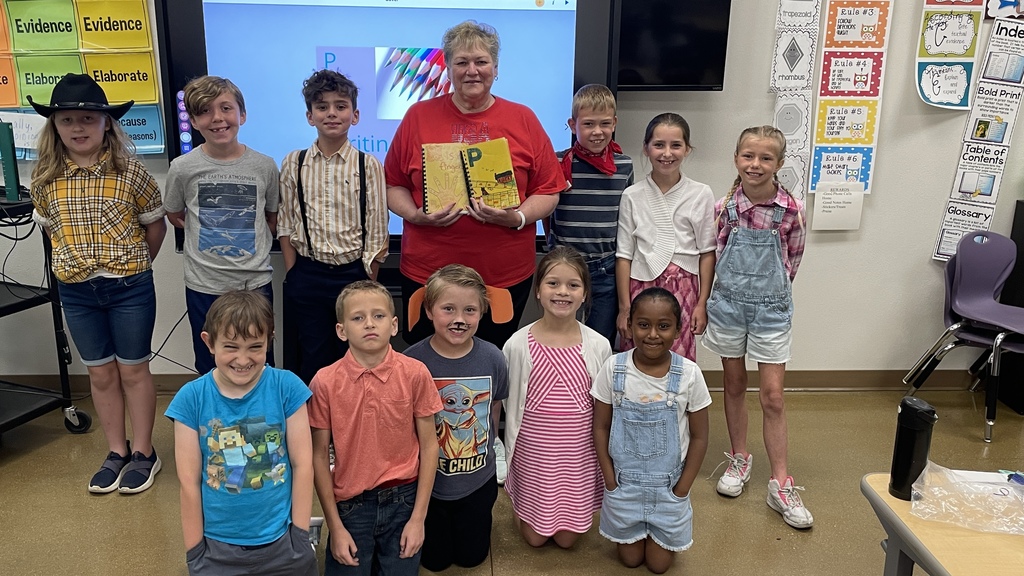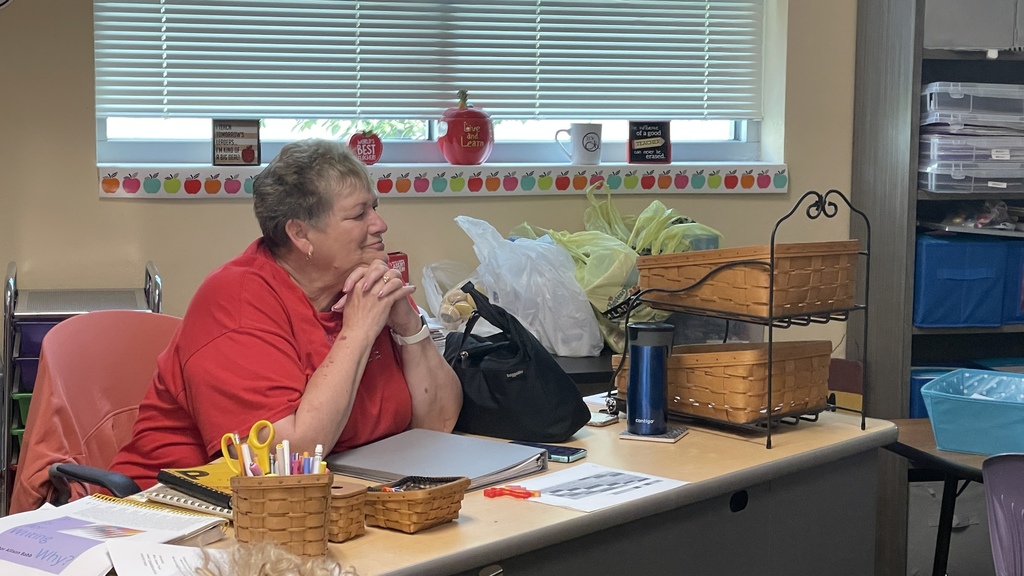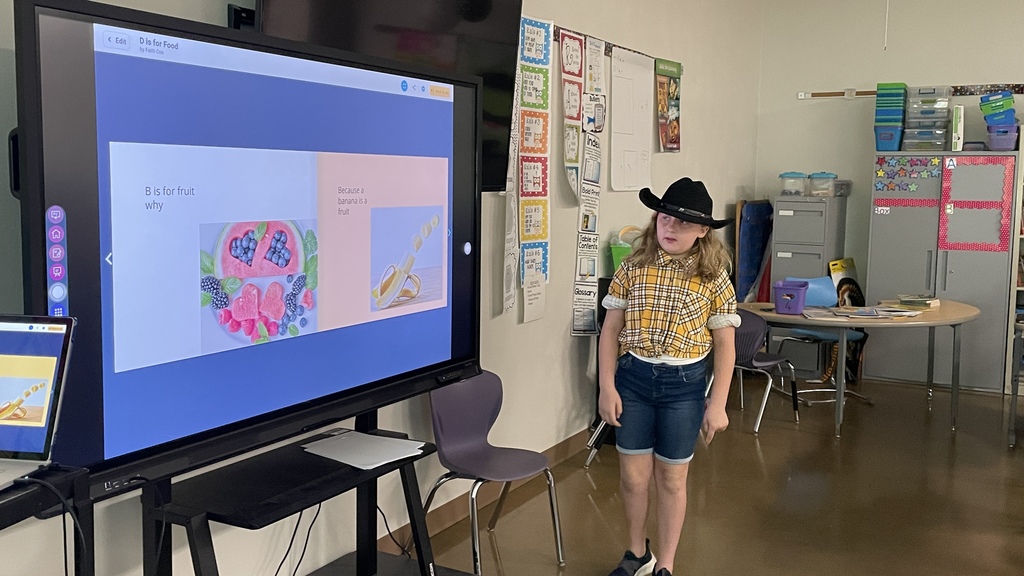 The Exploring program and Southern Illinois Builders Association are once again partnering to bring a Skilled Trades Program to high school students in your area. Skilled Trades Summer Program: The program is designed to introduce students to various careers in the skilled trades field. The program will be interactive and students will have the chance to meet with and talk to people in these careers. Each day will be a different trade and experience. For more information and to register please use the link provided below. Any questions please reach out to
julie.monken@scouting.org
When: July 10th-14th, 2023, 8:30-1:30 Where: Southern Illinois Builders Association and various apprentice schools in the area Who: Current high school students Cost: $50 per student. Financial assistance is available. Please contact
Julie.monken@scouting.org

Parents of LES Bus Riders, Due to the Jr./Sr. high school being released early, the LES bus riders will arrive approximately 15 minutes earlier than their normal drop-off times today and tomorrow (05/25 & 26). Please make sure that you are at the bus stop in enough time to receive your LES students. Thank you.

High School Girls Soccer information from the Wesclin High School Girls Soccer Coach: If you are interested in participating in Wesclin High School Girls Soccer next year, please download the Stack TeamApp on your mobile phone and search for Wesclin Girls Soccer. On the app, ask permission to join the group. We will have events over the summer so it is important to sign up as soon as possible to stay informed.